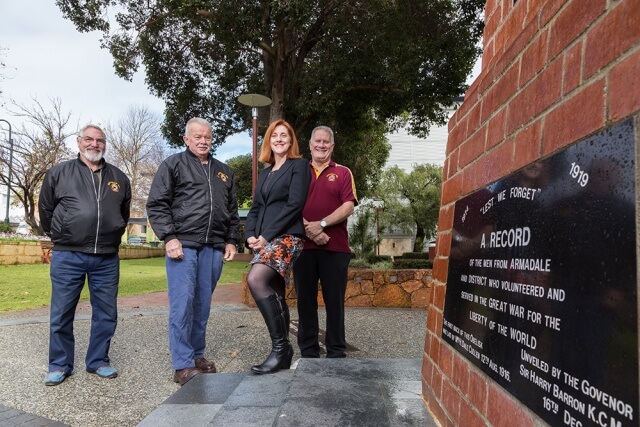 This Friday one of Armadale's most recognisable icons will turn 100 and the community is beaming with pride.
On August 12, 1916 the first foundation stone was laid at the Armadale War Memorial, making it one of the earliest built in WA.
The Armadale community including the Armadale Football Club and schools helped build the structure with bricks donated from the local brickworks.
The community decided to erect the monument before the war ended in November 1918 because reportedly the Armadale soldiers departing for the war prior to 1916 were not given an official send-off.
The concept of a brick obelisk was proposed by a group of Armadale residents, businesses and community groups who formed a roll of honour committee in April 1916.
Committee secretary Herbert Dale Cullen's wife Marian Cullen laid the first brick, followed by a brick by a student from each of the five schools of the district.
Mrs Cullen was presented with a 'handsome' trowel as a memento of the occasion, which now sits on display in the History House Museum.
It was officially unveiled on December 16, 1916 by Governor Sir Harry Barron.
The serving member of Parliament for the Armadale area William James George was at the unveiling and had lost his 20-year-old son in the Gallipoli campaign.
He said the people of Armadale were starting to think of their men not merely as so many units across the seas but as persons belonging to them and fighting their battles.
The obelisk's first home was on the corner of Fourth Road and Commerce Avenue, then in the late 1950s it was moved to Memorial Park next to Orchard Avenue, where it has stood resolute ever since.
Armadale RSL president Ken Hepburn said the club was very proud the important monument had lasted 100 years.
"It's 100 years for the dedication given by the people of Armadale who gave their lives to protect this country and keep it the way it is today," he said.
"The Armadale RSL is very proud every year to hold their Anzac Day service and Remembrance Day services at the memorial and will continue to do so."
Armadale mayor Henry Zelones said the memorial was an important reminder for residents of the city.
He said the city was adding more to the park in the lead up to the centenary of the end of World War I with the most recent addition a World War II Howitzer cannon, installed last year.