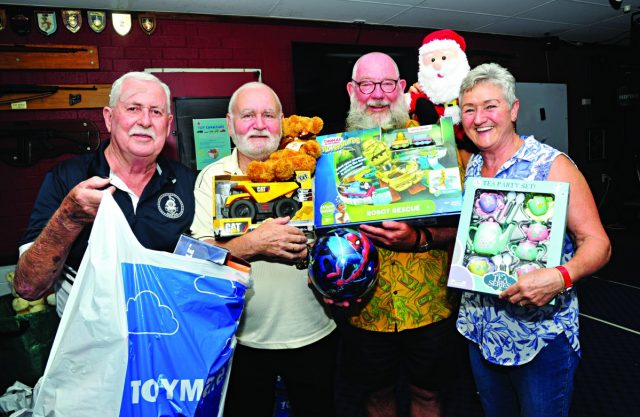 Christmas is fast approaching and for many families, 2021 has been a year punctuated by the uncertainty of the COVID-19 pandemic and the impact of lockdowns on home life and work.
This year, while most families will be looking forward to festive treats and presents under the tree, those doing it tough will struggle to simply to make ends meet.
To help spread some joy on this special day, the Riverton RSL Sub-Branch will once again be running its Toy Cavalcade in support of Communicare's Christmas Appeal.
On Saturday December 11 a convoy of military and first responder vehicles will wind its way through the streets of Riverton, Willetton and Lynwood, collecting toys for the children who use Communicare's programs and services.
Riverton RSL Sub-Branch Club President Bill Collidge said this year the participating military vehicles, fire engines, police cars, ambulances and the Military Brotherhood Military Motorcycle Club, will make their way back to Communicare's office in Cannington to unload the toys.
"Our volunteers and supporters are so excited to have the opportunity to deliver the toys back to Communicare's Everyday Elves workshop this year and stack the shelves in time for Christmas," he said.
"We urge the people of Riverton, Willetton and Lynwood to come out on the streets when we roll past on the day and donate new, unwrapped toys for children and teenagers of all ages.
Let's all do our best to give children and families a reason to smile this Christmas Day."
Communicare Chief Executive Melissa Perry said the Toy Cavalcade not only supports some of the most vulnerable young people in our community, it also engages people in the spirit of giving.
"At this time of year it's so important for all of us to reflect on the hardship many young people and their families find themselves in and consider what we can do as individuals and as a community to help them experience a sense of hope and joy," she said.
"We thank the Riverton RSL, its members, community volunteers and everyone involved in this great event for helping to share some of that joy with the families we work with."
Those people who are unable to attend the Toy Cavalcade can donate to the Communicare Christmas Appeal at: communicare.org.au/Support-Us/Making-a-donation
Donations can be made at the electoral offices of Dr Jags Krishnan, Sue Ellery and Ben Morton, at the City of Canning, the RSL Riverton sub-branch or at the Communicare office in Cannington.