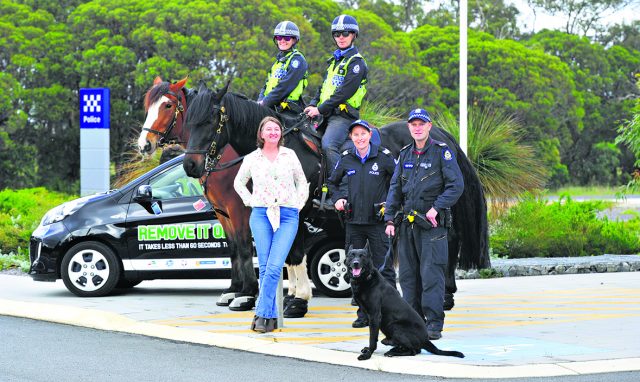 If you saw police horses pounding the pavement recently in Byford then you were not seeing things.
Mundijong Police, in conjunction with Armadale detectives, Gosnells Police, the police mounted section and canine unit and the Shire of Serpentine Jarrahdale launched Operation Cloud Dawn in an attempt to educate the public about how quick offenders pounce on locked and unlocked vehicles.
Mundijong Police officer in charge Senior Sergeant Darryl Brandis said his staff had noticed that people were leaving property in their vehicles quite regularly and as a result thefts were occurring.
"Victims often left wallets and phones in their vehicles and the resulting credit card frauds were distressing for the victims," he said.
"Cloud Dawn was designed to catch the people who did the stealing and to educate the public that their property could be gone in less than 60 seconds."
During the operation Senior Sergeant Brandis said members of the public were enthusiastic and pleased to see a visible presence in their community.
"There was a noted reduction in thefts from motor vehicles during the first week of Operation Cloud Dawn where numerous task forces attended and a number of persons of interests were identified," he said.
"The community responded really well and it was clear the message was getting through."
The Shire of Serpentine Jarrahdale also joined in the action, providing the gone in less than 60 seconds vehicle for the operation to further enhance the message.
President Michelle Rich said the campaign was a collaboration between Police and several local governments across the metropolitan area.
"It's designed to make people aware of just how quickly crimes can happen when people become complacent or forgetful," she said.
"It's sometimes easy to do, but leaving valuables visible in your car dramatically increases the chances of those items being stolen."
The operation, which was launched last week, will continue through to early December, when the focus will increase to traffic offenders and the influx of drivers travelling through the community in the festive period.
Senior Sergeant Brandis said another operation, Operation Yellow Flower, will then run in conjunction with Operation Cloud Dawn.