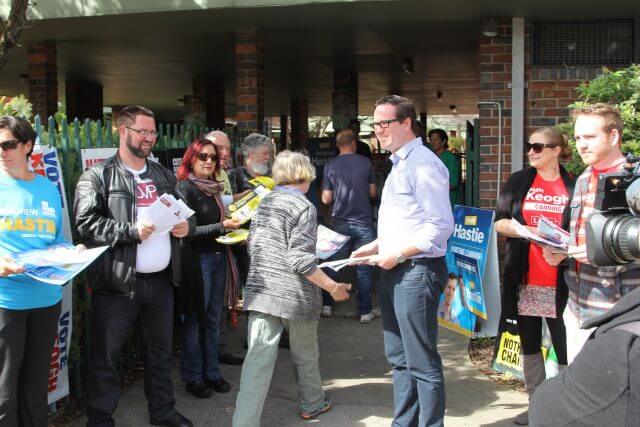 Canning voters have hit the polls today in what has been one of the most important by-election campaigns in federal political history.
Labor candidate Matt Keogh faces an uphill battle with recent polls suggesting Malcolm Turnbull's ascension to prime minister earlier this week has greatly increased the Liberal party's popularity with voters.
Speaking at the Kelmscott senior high school polling booth today Mr Keogh said he was the underdog against his opponent Liberal candidate Andrew Hastie but played down Mr Turnbull's impact on the by-election.
"I probably am going in as the underdog, you might have noticed there's 11.8 per cent swing that we need to win this so it's going to be hard but it's been a great campaign and it's going to be a good fight and I'm looking forward to seeing the result at the end of the day," he said.
"I think Tony Abbott's exit from the leadership has really shown the turmoil of the government, it's made people sit up and think what on Earth is going on over there in Canberra?"
Both Mr Keogh and Mr Hastie are unable to vote today because they did not live in the electorate long enough to be placed on the Canning electoral roll.
A person must live in an electorate for more than 28 days to be placed on that electorate's roll.
Both Mr Hastie and Mr Keogh only moved into the electorate in late August.
Mr Keogh's family voted in today's election and he said it was good to have their support.
"I'd love to have been able to vote today but of course the rules are you have to be in the seat for 28 days before you can change your enrolment and I wasn't able to do that," he said.
"It's been great today to have all of my family out voting and that's been really special for them and for me for them to be able to cast a vote with my name on it."
When asked whether he would run for the new electorate of Burt in next year's general federal election Mr Keogh said he wasn't thinking about it.
"I'm focused on today," he said.
"This campaign has invigorated me even further to make sure that we're sending a strong presence from Labor to Canberra to stand up for Western Australia."
The by-election was triggered by the death of former member for Canning Don Randall on July 21.
Mr Randall had held the seat since 2001.