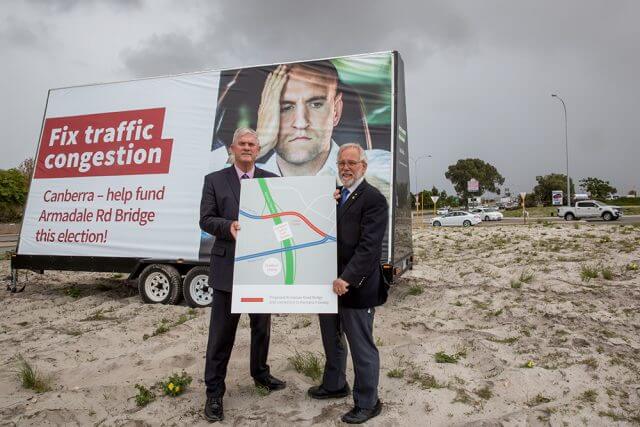 Armadale Road congestion could be cleared by 2020 if federal and state governments commit to funding a $160 million bridge across the Kwinana Freeway during their election campaigns, according to City of Cockburn mayor Logan Howlett.
Mr Howlett and City of Armadale mayor Henry Zelones are calling for commitments so work on the bridge can start immediately after the duplication of Armadale Road from Anstey to Tapper Road.
The $145 million duplication forms phase one of the Community Connect South campaign to solve congestion between Armadale, Jandakot, Cockburn, Fremantle and the surrounding areas while the bridge is phase two.
Phase one received a $116 million commitment from the Federal Government and $29 million from the State Government during the Canning by-election last year with works to start in 2018.
Federal Labor also committed $145 million to the project should it win this year's election.
No further funds were announced in the Federal Budget on Tuesday night for phase two but Mr Zelones and Mr Howlett were still hopeful.
"What we are saying is if we combine both projects there will be cost savings because with the equipment out there and employment in place, let's get on and do the job as one package which will bring, I would think, substantial savings in the order of 10 per cent or more," Mr Howlett said.
"I'd like it completed as soon as possible but overall 2020 for both projects if the second one is approved.
"We're quietly confident that even though it is a very competitive process across Australia, where the struggle for infrastructure is a priority in every state and territory, we believe we have put forward a very good case to strengthen the overall economy and also for job creation and growth, which is a platform potentially by both major parties."
Mr Howlett said the congestion on Armadale Road and bottleneck on the freeway during peak times as more than 100,000 vehicles pass through daily were unacceptable and the project was critical to unlocking the southern suburbs.
"You have queues back from Nicholson Road, along Armadale Road, in peak hour in the morning and afternoon of people wanting to get home, get to jobs, to other employment opportunities and to education facilities as well," he said.
"So it is an all round impact on the economy, improving job opportunities and also for people to move freely between both Armadale and Cockburn."
Mr Zelones was hopeful some of the unallocated funds for infrastructure announced in the Federal Budget would go towards the project as well as funds in the State Budget, to be announced on May 12.
He said Main Roads had already completed a lot of the planning and design work.
"It is now the construction cost that needs to be funded by the federal and state governments, we don't know where the state is yet as we haven't heard their budget," he said.
"There are five metro councils in the outer metropolitan group involved in this and it is crucial to all of us.
"There are a lot of people who simply want to get on the other side or pass by and don't even want to go to Cockburn Central but that is where they all end up."