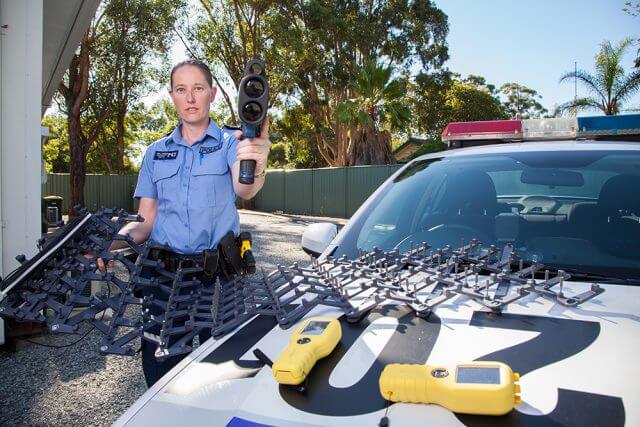 Mundijong Police are cracking down on hoons as reports of bad driver behaviour soar according to Senior Sergeant Darryl Brandis.
Snr Sgt Brandis said Operation Concluder was launched throughout the district this month to target hoon and traffic offences, which were increasing in line with the district's growing population.
"People are telling us the locations where burnouts are happening so I went and took photos of six different streets where there previously hadn't been burnouts and now there's a large amount there," he said.
"In some streets there's like a Sarah Lee cheesecake effect where there's just layer upon layer of tyre burnouts there.
"That lets me know that people aren't heeding the advice they're given and we need to crack down so we drew up this operation and we gained resources from Canning Vale and Armadale to help us."
Aside from an increased police presence, the operation included the use of covert cameras capable of catching digital images of hoon drivers.
Snr Sgt Brandis said the operation would run over the next few weeks but it was already netting good results.
"Over the last weekend we did 576 random breath tests, we got two drink drivers, three vehicles were seized, six people were charged with no authority to drive and we caught three unlicensed vehicles," he said.
"Five criminal offences also came out of those vehicle stops and two drug offences.
"There were also a large amount of traffic infringements, cautions and work orders.
"It was a good start but we have more planned in the next couple of weeks as more external resources come into the area."
He said while it had been a good start it was disappointing to see people still committing traffic offences, particularly in light of the road toll, which is now at 52.
Five people were killed on Perth roads over the Easter long weekend while 11 died during the Labor Day long weekend.
"People still don't seem to pay any attention to the fact they could get seriously hurt," he said.
"The fact they saw all of those road deaths over the previous week and yet we're still catching people doing all these things means we're not getting through to them and people aren't listening."
Snr Sgt Brandis said Operation Concluder was running off the back of several other operations targeting burglaries and stealing offences in the Serpentine Jarrahdale area.
"We're going to continue running those (operations) until the people that live in this area feel safe," he said.