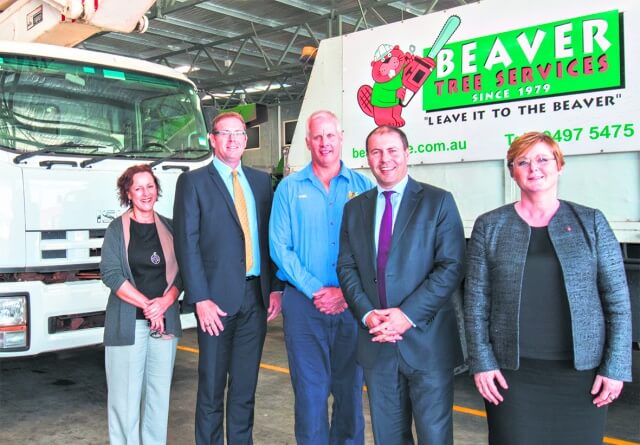 Federal Minister for Environment and Energy Josh Frydenberg said federal cuts to small business tax rates would deliver results for many businesses in Perth's south-eastern corridor.
Mr Frydenberg visited Forrestdale business Beaver Tree Services last week during a visit to Perth and said tax cuts from 30 per cent to 27.5 per cent would affect about 3.2 million businesses across Australia.
The Federal Government's eventual plan was to drop the tax rate from 27.5 per cent to 25 per cent for businesses earning up to $50 million per year.
The cuts mean a business earning the maximum $50 million per year would see the annual tax drop from $15 million to $13.75 million.
Mr Frydenberg said the cuts would add about $17 billion per year to the Australian economy and would give businesses like Beaver Tree Services confidence to employ more staff and purchase more vehicles.
"We know that Australian businesses big and small compete against the businesses from overseas and we need to have an attractive and favourable domestic tax environment," he said.
"With the United Kingdom moving their company tax rate to 19 cents to the dollar and going to 17 cents to the dollar, with Donald Trump talking about bringing his company tax rate to 15 cents in the dollar and with New Zealand, Singapore, Hong Kong and other countries in our region all with lower company tax rates than Australia we can't afford to be behind them in the pack.
"We need to have a tax regime which encourages investment, jobs and growth."
Beaver Tree Services managing director Paul Harrison has owned the company since 1999 and said he was pleased with the tax cuts.
He expected local businesses would get a boost.
"The tax cut of course is fantastic," he said.
"For this year it will impact about 80 per cent of the businesses in this area which will turn into investment and more employment.
"It helps everybody in the whole area."
Federal Minister for Burt Matt Keogh said the government's small business tax cuts were being made to benefit big businesses.
"Labor supports tax cuts for genuine small businesses with turnovers under $2 million but the government's tax cut includes businesses with turnovers up to $50 million and they still want to give a tax cut for even bigger businesses including a $7 billion tax cut just for the big banks," he said.
"The government talks a big game on these tax cuts but has no modelling to show there will be any economic improvements for our community as a result.
"The figures the government uses for UK and US comparisons are not accurate, they are fake news.
"It is international shareholders not Australian shareholders and business owners that benefit most from the government's big business tax cuts."