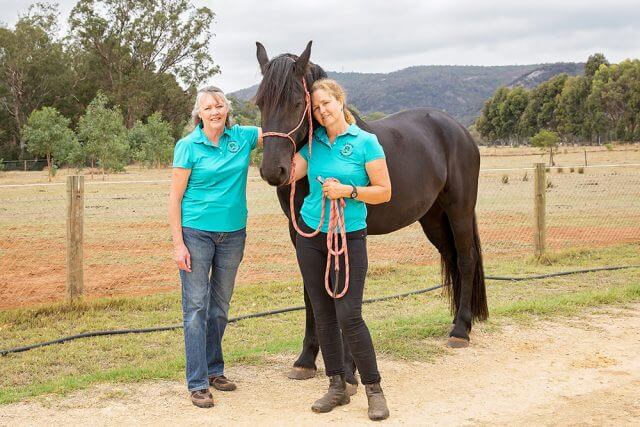 Horse owners are being warned to watch out for stable flies after a Serpentine resident said her horse suffered a severe allergic reaction.
Linda Starcevich realised something was wrong with her horse Llewella after sores started appearing on her leg.
"She started getting itchy, then she got these sores on her leg and then her whole body became affected so she had sores on her face, head and belly," she said.
"She would bite them so hard she'd bleed and she'd rub herself on anything she could find, even when she had rugs on.
"She was really just going nuts and it was just terrible to watch."
Ms Starcevich said she took Llewella to a number of vets until one of them recognised it as an allergic reaction to stable fly bites.
According to the Department of Agriculture and Food WA, the stable fly has become an aggravating pest in WA that attacks humans, domestic pets and livestock by biting and drawing blood.
In some cases it can cause severe allergic reactions like those suffered by Llewella.
In 2013 it was included as a declared pest under the Biosecurity and Management Act 2007.
As part of this DAFWA is attempting to manage the pest and reduce breeding in 11 local government areas including the Shire of Serpentine Jarrahdale and the City of Armadale.
Ms Starcevich said despite its status she didn't recognise the pest until after Llewella was bitten.
"At the time I just thought they were normal flies," she said.
"They actually hang around my stable in the sheltered areas and apparently they're attracted to damp spots like underneath damp hay, which is where they often breed."
Ms Starcevich wanted more people to take notice of stable flies and what they can do to prevent them.
A pests and weeds field day will also be held at her property this month, hosted by SJ Equine Landcare Group featuring a presentation about stable flies from a DAFWA entomologist.
Landcare SJ support officer Teele Hooper-Worrell said the day was particularly important for people who owned livestock because there had been an increase in stable fly in the area.
"We hear more about it from the north of the river but it's actually quite a big problem in the Serpentine Jarrahdale area," she said.
"We've already had quite a lot of people in the area come to us and say they have issues with an allergy in their horse that they don't know how to fix.
"What they don't realise is that these flies are actually a biosecurity risk as well."
Field day information
The field day will be held on April 30 from 9am to 2pm in Karnup Road, Serpentine with morning tea and lunch provided.
The cost is $20 and all attendees would receive information on weed control and stable fly.
Bookings are essential and can be made by calling 9526 0012 or emailing Teele@landcaresj.com.au.
Pests such as the stable fly can be reported to DAFWA by downloading the MyPestGuide smartphone app or by visiting mypestguide.agric.wa.gov.au.