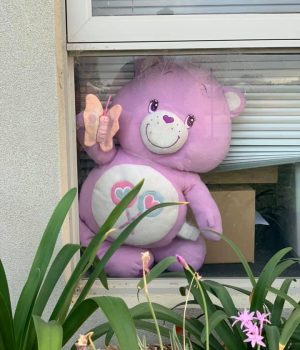 Byford residents have displayed their finest plush bears in a bid to return a degree of normalcy for local children as the state grapples with the coronavirus (COVID-19) pandemic.
The 'Bear Hunt' movement is believed to have begun in the United States, gaining momentum as the state and federal government enforced social distancing measures to stop the spread of the deadly respiratory virus.
Resident Stacey Adey, who spearheaded the local movement, took to social media to share her plan to bring the hunt to Byford in the Byford and surrounds Community Group on March 24.
The post has since gathered more than 160 responses and prompted the creation of a 'Going on a Bear Hunt in Byford' group with almost 400 members.
Residents have since begun sharing photographs of their bear hunt and formulating maps based on their sightings.
Several cited concerns that the initiative may conflict with the government's social distancing measures, but most believed it could be done in a safe manner and would greatly benefit young children.
As a mother of two young children, Ms Adey said she saw the hunt as a positive distraction for the younger members of the Byford community.
"I have two young children, aged four and eight," she said.
"They don't know what is going on, but they're asking questions.
"They want to know why they cannot go to their friend's house after school and that sort of thing.
"This is a good, positive distraction for them.
"It's maintaining community connections and interaction while we're social distancing.
"The fact that it has taken off is really humbling, but it is really down to the kids.
"They put about eight bears out – in windows and trees.
"It's about being a community, supporting each other and reaching out in any way we can right now.
"Most importantly, it keeps the kids entertained."