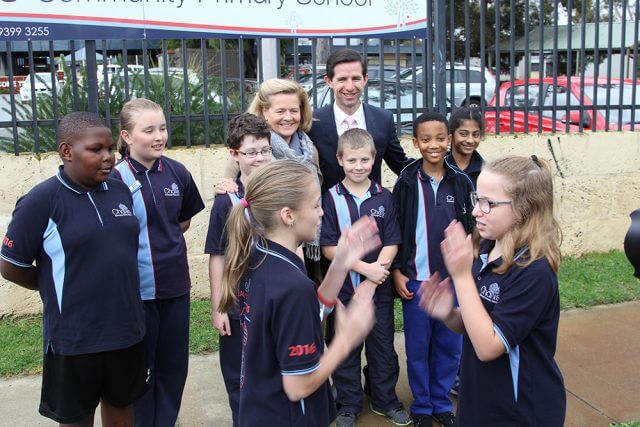 Cecil Andrews Senior High School students could have a fast tracked pathway to work as ship builders if the Coalition is re-elected on July 2.
Minister for Education and Training Simon Birmingham visited the school on Monday to announce the $4.6 million pathways in technology national pilot program (PTECH).
The Cecil Andrews pilot would be one of 12 across the country.
It would see funding to improve science, technology, engineering and maths outcomes and to facilitate collaboration between Cecil Andrews, shipbuilder Austal and other local businesses.
Liberal candidate for Burt Matt O'Sullivan said the Coalition would fight for local students to have access to more options that will help get them job ready.
"A program like PTECH at Cecil Andrews Senior High is a practical way the Coalition is combining technical and vocational skills with school and industry partnerships to tackle the challenges of youth unemployment and to help more young people into work," he said.
Mr Birmingham and Mr O'Sullivan also visited Challis Primary School on Monday to announce funding to take the Challis early learning model developed by Andrew Forrest and his wife Nicola to the rest of the country.
Mr O'Sullivan said he also wanted to develop a targeted jobs service for parents at the two schools as he'd been told there was high unemployment amongst parents. He said it would involve existing employment services working with employers.
"The problem is that they (employment services) don't talk to each other or work together and they are certainly not working with industry or not to the extent that they should," he said.
"What we need to do is get the employers of the area to tell us what their requirements are so rather than let the welfare system drive the employment you let the employers who have go the jobs dictate how it happens."
Mr O'Sullivan said the service could be targeted to the parents who now had their children in school.
"You would connect it as a targeted service to the parents, it's more about getting the service providers to work together, getting a good flow of information from the (Challis) child parent centre," he said.
"Okay, you've got your child in the classroom now, how about a training program that's on offer that has a job lined up with xyz. It doesn't need funding, it just needs leadership."