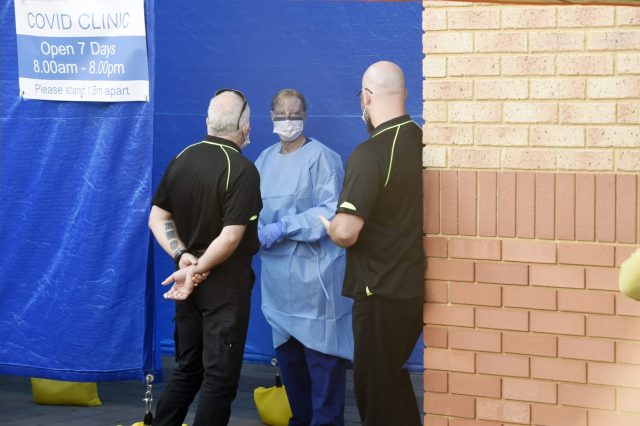 More than 60 people have presented for testing on the first day of operations at Armadale Health Service's new coronavirus (COVID-19) clinic, as the state government ramps up its response amid a growing number of cases. 
On March 19, WA Health minister Roger Cook announced that Armadale would be one of four metropolitan centres to receive a clinic to administer testing for those experiencing fever or respiratory symptoms or those that have recently travelled overseas. 
The Department of Health confirmed the specialist clinic, which officially opened on March 23, would operate from 8am until 8pm daily in the Community Rehabilitation Building, with medical professionals and administrative staff required to adhere to strict infection prevention protocols. 
Mr Cook insisted the state government was prepared and that it would be working with the Department of Health to elevate response plans. 
"I think it is safe to say that we are now seeing the emergence of community-based transmission of the virus and we are now transitioning to a new phase in terms of its progression through our community," he said. 
"We always knew that this would happen, and we are prepared. 
"These additional clinics will assist us to have a clear picture of the incidence of COVID-19 in the community and to rapidly diagnose and care for people who are at higher risk of more severe illness with the advice and treatment that they need." 
It is understood the state government is also working with federal health authorities to gather more testing kits to cope with the increasing demand. 
More than 200 residents across WA have now tested positive for the virus.
The state government has since implemented stage one restrictions on social gatherings and venues, forcing the immediate closure of pubs, indoor sporting venues, cinemas, cultural institutions and churches 
This follows on from the announcement by the prime minister on Tuesday night. 
WA Health minister Roger Cook also reiterated the importance of social distancing and good personal hygiene and said it remained the most important strategy to limit the spread of the virus and flatten the curve. 
"Make sure that if you're starting to feel unwell, that you isolate yourself from older people within the community, from loved ones and particularly your workplace," he said. 
"The best form of defence in relation to the COVID-19 virus is our own vigilance and making sure that we practice good social distancing."