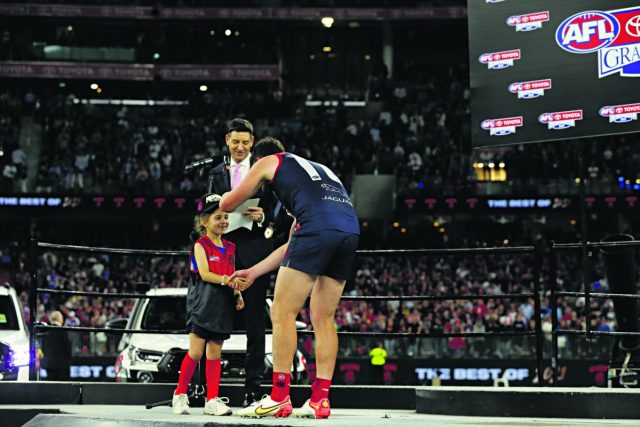 A little Gosnell's goal-kicker played a starring role at Saturday's AFL Grand Final, when she stepped onto the field at Optus Stadium to award the winning team their premiership medals.
Seven-year-old footy lover, Ariya Bramwell, who plays in the NAB AFL Auskick program for Gosnells Hawks, was on top of the world, and the family furniture, when she found out she had been selected, along with 22 of her fellow Auskickers, to take part in the Grand Final medal ceremony.
"She was quite excited," said proud Dad, Jared.
"When we told her that she had been selected to hand out medals and explained what that means she lit up," he recalled.
"We had to wait a while for her to settle down to continue the conversation, after reminding her that it's not ok to jump on the couch," he laughed.
As part of the event, Ariya was invited to a training session at Optus Stadium for a sneak preview of their role as medal-bearers, where they rubbed shoulders with some of the league's best players, including West Coast Eagles' Luke Shuey and Carlton's Patrick Cripps.
"The most exciting part of the day was going into the Eagle's changing room, meeting the other Auskick girls and training with them, also meeting some football players," said Ariya.
Ariya's family, who attended the AFL grand final on Saturday, said it was great to share the experience with their champion daughter.
"The whole family is extremely grateful to be part of this once in a life time opportunity," said Jared.
"It is something that Ariya will remember for the rest of her life and it was great to have been able to share the experience with her."
"We are definitely thankful to the NAB AFL Auskick association for setting this up and allowing us to be a part of the AFL Grand Final," he said.
When asked what her favourite part of the Grand Final was, Ariya gave the obvious answer.
"My favourite part of the Grand Final was handing out a medal."