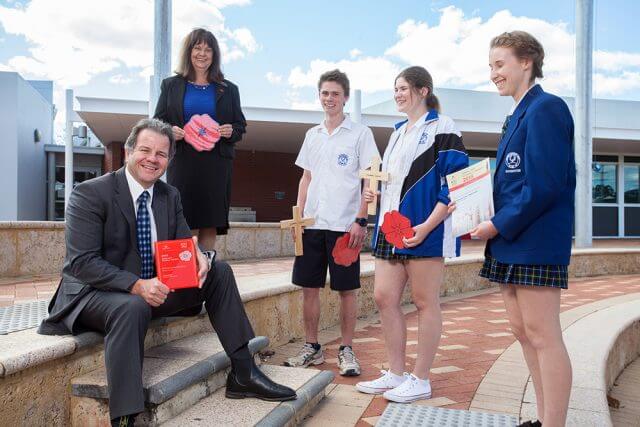 The Anzac spirit was alive and well in Canning with two schools in the area receiving Anzac day schools awards from the federal government for their 2015 Anzac day celebrations.
Last week Member for Tangney Dennis Jensen presented Rossmoyne senior high school with the WA winner (secondary award) and Riverton primary campus with the best Anzac centenary learning award.
The awards, now in their 15th year, were aimed at helping school children across Australia understand the significance of commemoration and the meaning of Anzac day.
Rossmoyne humanities and social sciences students conducted research on soldiers from different WA battalions and wrote their findings on 1600 poppies planted on the school grounds.
The poppies also included the students' thoughts on the relevance of Anzac day today and 400 wooden crosses were placed throughout the school.
The school also held an Anzac assembly where students and guests including former and current serving defence force members talked about the Anzac legend.
Rossmoyne head of humanities and social sciences Rosinda Seara said the event brought the whole school together and it was an award the whole school could be proud of.
"It went from class research to the poppies so all the students in the school were really truly involved," she said.
"I'm a big believer that a nation should know its own history and I'm really impressed with the level of respect students showed."
Riverton primary campus changed its school hours for one day on April 2 to hold a school dawn service and community gunfire breakfast.
They also 'planted' poppies and crosses throughout the school and made Anzac biscuits.
Riverton primary principal Paul Grundy said their focus was on embracing their multicultural school community in their Anzac commemorations.
"Every student made a little cross on it with a little poppy and because we have such a multicultural school some students wrote lest we forget on the poppy in their background language," he said.
"The important thing for us is we have such a multicultural group of kids here that a lot of their families don't have a background in Australia.
"So they don't have that number of generations that we're so used to Anzac day and it being so important so it's really important for us as a school to teach the Anzac message."
Mr Jensen congratulated the schools and said it was important to educate the next generation about the service and sacrifice of Australia's servicemen and servicewomen.
"I congratulate the schools, the teachers and the students on ensuring that the contribution of all those who have served our nation will never be forgotten," he said.
"It is through education that the Anzac story is understood."
Rossmoyne received $2000, a plaque and certificate for their award while Riverton received $1000, a plaque and certificate.
For more information visit www.anzacportal.dva.gov.au.