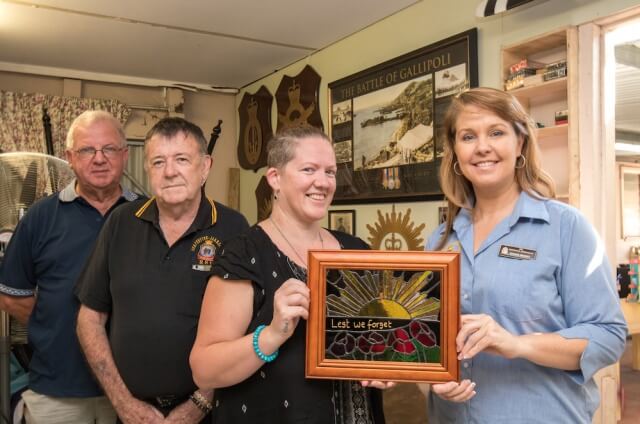 Inspired by a dream former navy steward Nicollette Alchin created a stained-glass piece to commemorate the sacrifice of servicemen and women.
After she had completed her project, which features poppies and the words 'lest we forget' she wanted to do something special with it so she approached Ken Reid, a former Vietnam War veteran and member of the Serpentine Jarrahdale RSL.
Mr Reid said he told Ms Alchin to donate the artwork to the organisation and on April 20 the painting was handed over to Serpentine Jarrahdale RSL president Rick Giblett.
Mr Reid said it was a truly magnificent donation.
"It's beautifully made," he said.
"I was really excited to give Rick a call and tell him about the painting."
Mr Reid said he observed ANZAC Day at the dawn service in Kings Park.
"ANZAC Day is a day to take a moment and remember the sacrifices," he said.
"My father, my in-laws and my uncles all served."
Ms Alchin, who served on the HMAS Stirling and HMAS Australia said she shared a close bond with her grandfather.
"He fought in Balikpapan," she said.
"He doesn't talk about it though but he's army and I'm navy and we always tease each other about that."
Ms Alchin said her grandfather told her she was the only sailor he loved.
"The image came to me in a painting," she said.
"I was also inspired by my grandfather.
"During the war he looked after a Japanese prisoner-of-wwar and they even became friends and kept in touch for many years."
Ms Alchin said her biggest fear was that the younger generation would forget about the sacrifices of past service men and women.
"ANZAC Day is very important," she said.
"We should never forget and it is our duty to remember all those who made the ultimate sacrifice."