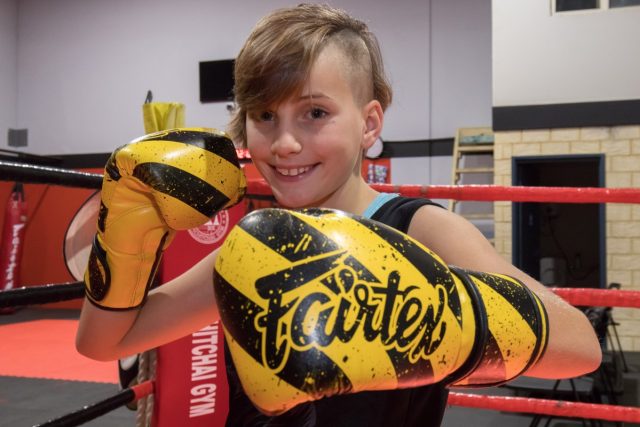 A Byford youngster is hoping to gather plenty of support in her corner as she gears up to travel and compete in next year's Muay Thai Australian Championships.
Amity Dudley has been training in the art of Muay Thai, a combat sport, since she was six-years-old and currently trains each week at Pichitchai Muay Thai Gym in Byford.
Now aged 10 she originally started with ballet and gymnastics but soon realised she preferred rough and tumble play.
Amity's mother Rebecca Dudley said her daughter would constantly want to play fight with her and her father so they looked around for sports where she could express herself.
That's where they found Muay Thai was the perfect fit.
"Her first day there she cried because she couldn't understand the Thai trainers and we thought that she wouldn't go back but she asked us to take her back because she loved being able to kick and punch the boxing bags," she said.
"She decided that she wanted to be a champion fighter one day."
Amity needs the public's help to get her onto the plane and into the ring to compete at the Muay Thai Australian Championships in January.
The Woodland Grove Primary School student is forced to travel interstate to compete because under West Australian law she can't compete in the state until she is 14.
Ms Dudley said it will be a fantastic opportunity for Amity.
"Currently Amity and her father will run at least five kilometres every day before she even steps foot in the gym to train and then she will train for at least an hour in the gym," she said.
"It makes it hard sometimes to be able to get her homework and assignments done as she is constantly training but she makes it work.
"The championships are a three-day event and if Amity performs well she has a chance to be invited to be part of the Australian team, which travel around the world to compete.
"It's Amity's dream to be a part of the Australian team and this will be the first year that she is old enough to compete."
To donate visit the GoFundMe page or call Ms Dudley on 0418 543 208.