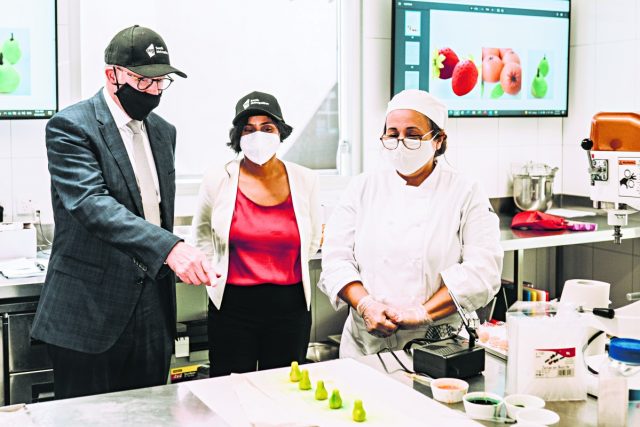 Much has been made of Anthony Albanese's recent weight loss, but last Friday the Federal Opposition Leader showed he wasn't afraid to get back in the kitchen, pledging $2 million towards an upgrade of Bentley TAFE.
The money will deliver a state-of-the-art commercial kitchen to Bentley TAFE, which sees more than 400 hospitality and cookery students a year.
The large-scale kitchen will also be used by the TAFE's Bentley Pines Training Restaurant, an interactive training environment for students preparing for work in the hospitality industry.
Flanked by Swan Labor candidate Zaneta Mascarenhas – who's niece studied to be a pastry chef at Bentley TAFE – Mr Albanese said it was difficult for businesses to find the staff they need to keep their doors open.
"Right now we have a skills crisis which is crippling the country," he said.
"To support homegrown skills and business growth, Labor is investing in skills and investing in TAFE.
"Today's announcement the first from Labor's $50 million TAFE Technology Fund, which will support improvements to facilities, workshops, laboratories and simulators across the country."
Ms Mascarenhas said she was incredibly proud of her niece, Grace Blakiston, who graduated from Bentley TAFE last year, adding that it made for intimidating birthday parties given her own skill level I the kitchen.
"She's incredibly skilled and has won awards at the Perth Royal Show," she said.
"But the facilities at South Metro TAFE are tired and the equipment outdated.
"This funding announcement means under an Albanese Labor Government, local students like Grace will benefit from state-of-the-art facilities.
"It breathes new life into the facility – it's like Masterchef meets Bentley TAFE."
"To be honest I rarely bake and when I do it's with my four-year-old son and a packet mix.
"Having a pastry chef niece makes birthday parties intimidating, but my mum still makes the best curry puffs."