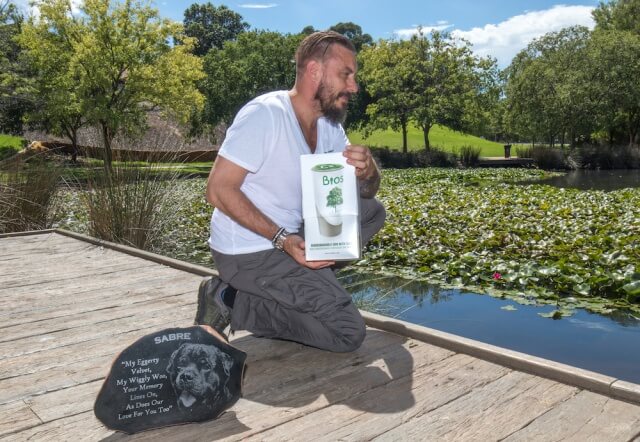 The death of Sabre the Rottweiler from cancer last year left Kenwick resident Bryce Roberts devastated but his quest to find something meaningful for his dog's ashes rather than 'a place on the shelf,' led him to Bios-Urn.
Mr Roberts became the sole distributor of Bios-Urn in WA in November.
A biodegradable urn, which allows people to grow a tree from the ashes of a loved one or a pet Bios-Urns is distributed by Trees of Memories.
Mr Roberts has been selected as a finalist for the Australian Small Business Champions Award, which will be held in Sydney next month for his work with the urn.
Mr Roberts said the urn was composed of a coconut shell, compressed peat and cellulose and took eight to 10 weeks to fully biodegrade.
"It contains a bag of organic growth medium designed to maximise the growth of any chosen plant helping create life after life," he said.
"Its simple yet effective design has been created in two sections modified for our varying climatic conditions in Australia.
"The top capsule contains a bag of organic growth medium perfect for maximising and assisting your seedlings growth and the bottom capsule carries the ashes of your loved ones."
Mr Roberts said Bios-Urns were a simple and dignified way to ensure the cremated ashes of loved ones were returned to nature in a positive way.
Brought over from Barcelona in Spain the Bios-Urn has been in Australia since September and available in WA since November.
"Bios-Urn is giving people some comfort at a time of grieving," he said.
"It takes the focus of their loved ones passing as being the final stage of life and allows them to return their loved ones into a more natural living memorial.
"People will be able to spend time with their loved ones plant and nurture it and watch it grow."
Mr Roberts said there were many options people could opt for including growing rose bushes and native Australian plants.
A Metropolitan Cemeteries Board spokesman said the urns were available for purchase at the Pinnaroo, Fremantle and Karrakatta cemeteries.
For more information visit treesofmemories.com.au.