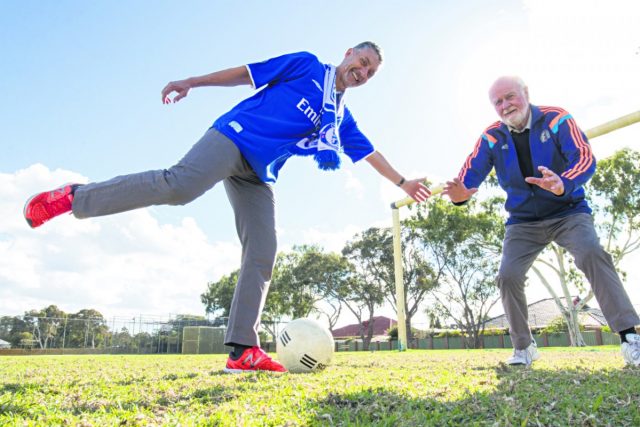 Armadale has gone Chelsea mad, and with good reason.
With just a few days until the 103-year-old English Premier Team hold a barnburner against the Perth Glory, fond memories of the British club's long association with WA have been relived.
Chelsea FC last visited Perth in 1974, playing against what was then the state senior team, before WA had it's own dedicated league team.
For Armadale resident Jeff Williams, it was a life-affirming experience.
Mr Williams had migrated to Western Australia in the late '60s, and while he couldn't necessarily break into the big league in his home country, his love for the sport continued in his new settled home.
Then, just a few years after migrating, he found himself captaining a team against the players he had idolised growing up.
"When I moved here there was no question that I would keep playing. Soccer is the great social activity," he said.
"You played soccer, then you met your friends, and then you were a part of the community.
"It was the same just as it was in England, only here I got to play at a level I would never have dreamed of back home."
Mr Williams saw the connective power of soccer on both sides of the pond, and is thrilled to be able to see the team come back and celebrate such a powerful international bond.
"It's now been 44 years, effectively, since they last played here," he said.
"Honestly, I wasn't sure if I would be able to see them again. Forty-four years is a long time."
Happily, Mr Williams has had the chance to bring together his old team to celebrate the Blues return, which includes some well-known WA names.
"A lot of the players, they were people who had migrated as well, it was a real mix," he said.
"We were coached by John Adshead, who went on to take the New Zealand national team to their first World Cup appearance in 1982.
"There was a lot of talent, and even more passion, so we really felt like we could put on a good competition against Chelsea."
Mr Williams and the remaining players in WA will meet before the exhibition match, something that will bring the long and storeyed history of the two teams full-circle.
"It's another way of bringing back all those old players to kind of celebrate what we did back then, but really just to celebrate that it's happening again," he said.
"Soccer is a competitive sport, but it's not all about the competition. It's about the passion each and every person has for it, whether they are a player or a fan or just someone associated with it.
"That's the real power behind it, and that's the feeling everyone has now. I'm glad I've been able to see it again."
Perth Glory play Chelsea FC at Optus Stadium on Monday July 23.