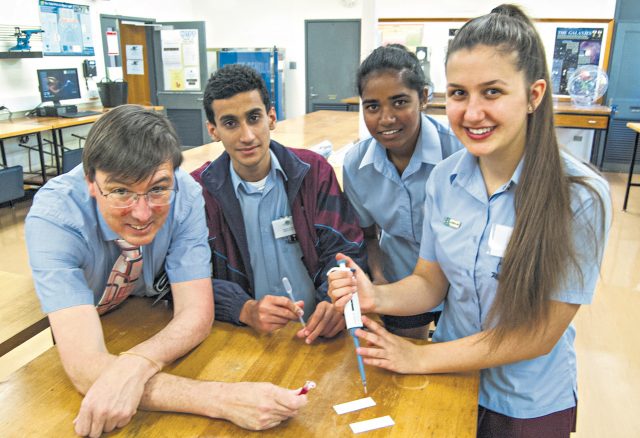 Basic pharmaceutical drug analysis could become much cheaper for schools and regional laboratories after three Willetton Senior High School students devised a way to test samples at a fraction of the cost.
As part of a class project year 10 students Brielle McKinlay, Sepehr Kimiaei and Leesha Dias devised a new way to perform Thin Layer Chromatography to identify and measure chemical presence in liquids.
TLC is a liquid analysis process usually performed on a glass slide that has been covered in an absorbent material.
Slides covered in a special gel are sold in batches for about $180, but for their product the students supplemented the pricey gel for a simple talcum powder-based solution they said was fundamentally as effective, but much cheaper.
While laboratories often use more accurate machinery for the same testing, the students said their outcomes were largely identical.
At a few cents per slide they said their method could have major benefits for under-funded organisations.
Student Sepehr Kimiaei, 15, said if it were taken up, their process could be hugely beneficial in places where high-quality resources are hard to come by.
"In the third world, in developing countries and in rural areas it's quite hard to obtain the equipment needed to check how much of a substance is in legal and counterfeit drugs," he said.
Brielle said the ease with which the process could be completed would be beneficial in areas where qualified staff is scarce.
"You don't have to have any skilled workers or researchers to be able to do it," she said.
Willetton Senior High School science teacher Leon Harris said counterfeit drugs were a major cause of death in third-world nations, and this product could be used to determine drug purity.
"For example, if a patient falls sick while being treated with heart medication, a remote clinic could use the techniques developed by these students to quickly check to see if the medication they were using was genuine, or whether it was counterfeit," he said.
Mr Harris said it would also be useful in schools as a much cheaper way of teaching chromatography.
"This is useful where people are cheap and materials are expensive," he said.
"It's potentially very big if we can get it out there."
Mr Harris guided the three students through their project and said their investigation had been a major achievement for high school students.
"I haven't seen anything like this, it's spectacularly good," he said.
"There's a tendency for teachers to be enthusiastic, but this is the real thing."
The students will present their project as West Australian representatives in the BHP Billiton Science and Engineering Awards.