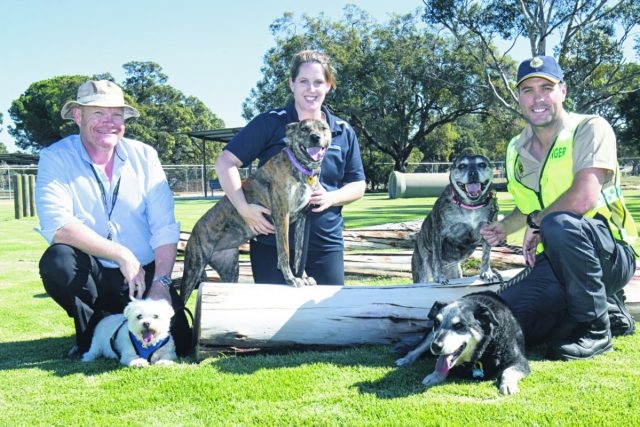 Furry family members of the four-pawed variety are invited to head along with their owners to the opening of the City of Gosnells new enclosed dog exercise park this weekend.
Harmony Fields Dog Park in Maddington promises to be a flutter of activity as dogs and residents alike attend the city's Bark in the Park event.
The event will include free veterinarian checks, pet accessories and food, a meet and greet with the city's ranger team, plenty of food, and for the kids a bouncy castle, face painting and craft activities.
Mayor Glenn Dewhurst said off-leash dog exercise areas were popular among residents.
"We have many off-leash dog exercise areas in the city of Gosnells, but this is the first one that is enclosed to prevent dogs from running off," he said.
"Providing opportunities for dogs to socialise and exercise regularly helps to reduce behavioural issues such as excessive barking or digging, and leads to happier, healthier dogs and their owners."
The dog park features a 1.8 metre high perimeter fence, a dual gate entry system, agility features, watering points, shade and different surfaces.
It includes two enclosed areas, which are ideal for large dogs and smaller dogs alike.
City of Gosnells council voted unanimously in May 2017 in support for the construction of an enclosed dog park at an initial estimated cost of $329,105, after a councillor and a number of residents suggested the city consider the need for the park infrastructure.
Gosnells District Progress and Ratepayers Association president Sandy Baraiolo said the group wanted to thank the city and deputy mayor Terresa Lynes in particular for her initiative in proposing the dog park for the city.
"I think it is a great facility for the ratepayers to take their dogs to," she said.
"As a dog owner myself of high-energy dogs I think the large dog park is a fantastic idea… I can take them off the leash and various exercises with them there."
The Bark in the Park event will be held on Sunday from 8am to 12noon on Alcock Street in Maddington.
During the event dogs will need to be kept on the leash because of the number of people and dogs estimated to attend.