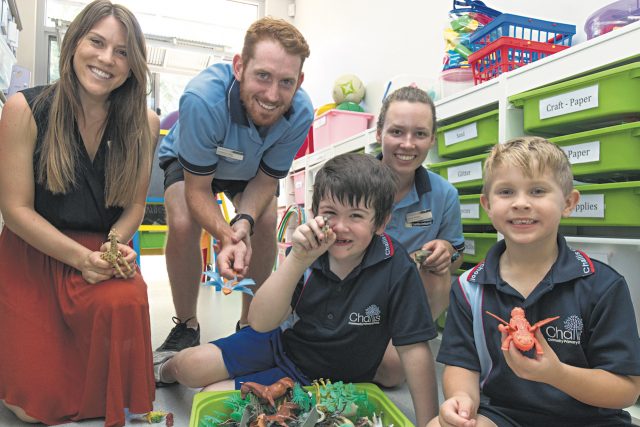 An Armadale school that once struggled with results is turning its scores around with help from a university-backed health clinic.
The Curtin Clinic is Curtin University's free healthcare service offered at Challis Community Primary School, and provides assistance for a range of physical or mental development conditions.
The clinic has been based at the school for about seven years, conducting about 5200 therapy sessions a year from a purpose-built building.
Challis Primary School extended services coordinator Kristy Tomlinson said local families often failed to turn up to medical appointments if they had to travel away to them, but having a free clinic at school meant important support was easily available.
"Our parents can't typically afford private health services, and we also find some of our migrant families are afraid of accessing services," she said.
"That's why the clinic is so great because it's free, it's here on-site and all the families live in the area."
Workers at the clinic are all Curtin University students in the final year of their degree or postgraduate students, who help children with conditions ranging from speech impediments to literacy and muscle development.
Ms Tomlinson said classroom results had steadily improved since the clinic launched, and while that was not necessarily all down to the clinic, it had undoubtedly helped.
"We're seeing a huge increase in reading in pre-primary kids, and literacy results are going up," she said.
Program coordinator Dr Shannon Golding said early intervention was an important way to help struggling children.
"Challis has a focus on the health and education needs of their children," she said.
"One of the clinic's key offerings is early intervention services, where they see children as young as a few weeks old to ensure they are able to get the best start to life.
"They believe that children can't learn the school curriculum if they aren't healthy and well."
Dr Golding said the program was unique in Perth and was in demand.
"There's a huge wait list of other schools that want this sort of program, but there just isn't the funding or scope to replicate it – but we see it works," she said.
Currently the clinic has put the callout for donations of new equipment and toys,
including agility ladders and weighted vests, and toys including basketballs, UNO, and finger painting pots.
Dr Golding asked generous residents to call on 9498 3067 before donating, as there is limited space.