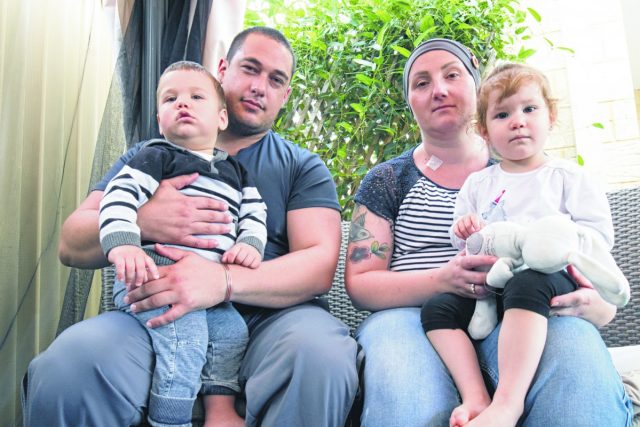 Within three days Byford woman Edina Tuirirangi went from being a healthy mother of three children to being told by her doctor that she had breast cancer.
Feeling fatigued and with flu-like symptoms, the doctors investigated but everything was put down to exhaustion after her recent pregnancy.
"I wasn't quite ready to go back to work after having my second baby but I had to because we needed to pay the mortgage," she said.
"I was really tired all the time so my doctor was doing blood tests but everything came back clear so I just worked through the fatigue."
A short time later Mrs Tuirirangi found a lump under her armpit.
"I showed my husband and he couldn't see it so I thought I was just being crazy but the second time I showed him we could both see it and feel it," she said.
"We went to Roby's doctor who sent me for an ultrasound and you could see it straight away."
Scans found Mrs Tuirirangi had invasive ductal carcinoma, an aggressive form of breast cancer. The cancer was about 12cm in size and a further 2cm tumour was found.
She was told the cancer had spread to her lymphatic system and it was oestrogen and progesterone positive which meant she would go into early menopause and her ovaries would be put to sleep.
With a family history of cancer, Mrs Tuirirangi said she knew that one day it might be her turn but she wasn't ready yet.
"When she said I had cancer it was a real kick in the teeth," she said.
"I remember saying to her 'don't tell me, I am not ready for this."
Shortly after the diagnosis Mrs Tuirirangi had her lymph nodes removed and underwent a mastectomy to remove both her breasts and further surgery to reconstruct her breasts with muscles and fat from her stomach.
"I went into surgery clear headed knowing that I wanted both of my breasts removed because in one breast they had found a benign lump, so the odds of that converting into eventual cancer were too high," she said.
"I am still accepting it… it's really hard.
"I think my new breasts look like something out of a science project, although when it comes to having cancer or breasts, it was an easy decision to make."
As a result of the diagnosis and treatment Mrs Tuirirangi has had to quit her job and her husband Roby has been forced to take time off work to take care of the household and their children 14-year-old Jahno, two-year-old Mahayana and one-year-old Te Onewa.
Mr Tuirirangi said the past few months had been extremely tough but everyone at his work had been really supportive and have assured him he will have a job to come back to.
"I have to stay home and look after the kids as we can't let them go to day care because one we can't afford to pay for it and two we can't afford them to get sick while Edina is on chemotherapy," he said.
"Literally one cold, one cough could kill her and we can't risk it."
The family, who are from New Zealand, have minimal emotional and financial support with a few friends stopping by occasionally to offer a helping hand.
The have tried to apply for Centrelink support but because they are on a New Zealand visa they have been told they are not applicable.
"We saved for years to buy this house and have both worked our whole lives and never asked for a handout," she said.
"It has got to the point now where we have to ask ourselves 'do we start selling our things to make things meet?'.
The family have set up a GoFundMe page to help with the ongoing costs of treatment and day-to-day expenses.