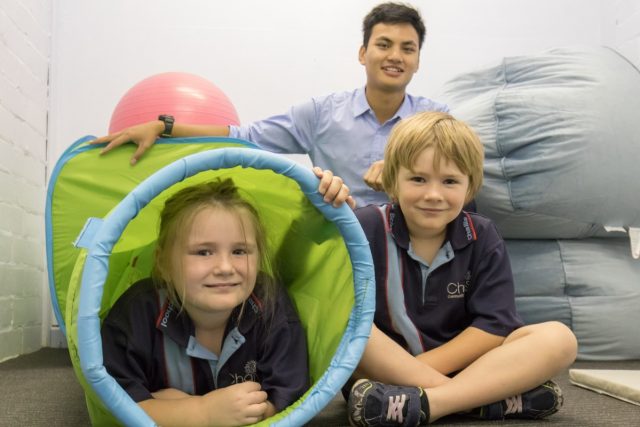 A room filled with gym balls and bean bags has proved to be extremely helpful for students at a primary school giving them the opportunity to chill out if they are feeling upset, agitated or overloaded. 
The staff at Challis Community Primary recently worked with Oak Soe Nathan, an architecture student at the University of Western Australia, to design a therapeutic sensory room that would help the student's wellbeing and development. 
Coordinator of extended school services Kristy Tomlinson told The Examiner having a space at the school that was purposefully designed to assist children calm down had made a huge difference to its students who have difficulties with self-regulation. 
"Instead of running away or acting out in class, the children are requesting time in the new sensory room," she said. 
"This not only provides them with the sensory break they are often craving but also gives them an opportunity to manage their own needs and demonstrate independence in this area." 
Ms Tomlinson said the room could be used by students with sensory needs including those on the autism spectrum as well as students with anxiety and those who are simply having a bad day and need a quiet place to relax. 
"Our teachers and support staff have a wide range of tools in their toolboxes that they can reach for to assist children with self-regulation, however, this purpose-built room has proven a very effective one already," she said.