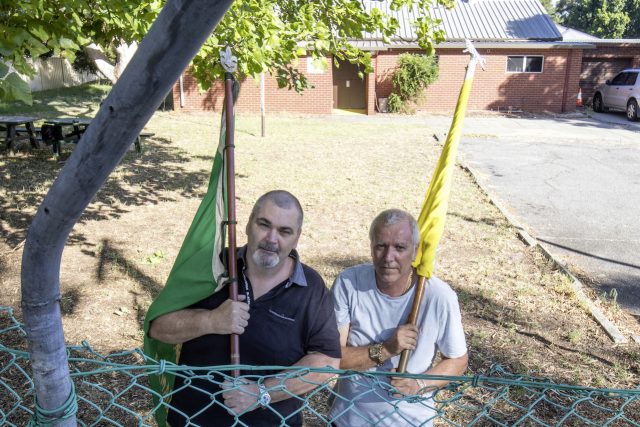 An Armadale scout group wants action after their hall was trashed and equipment stolen in a series of criminal raids over the past 12 months.
Group leader Howard Tilbrook has volunteered at the scouts' Townley Street hall for 17 years, and gives up to five nights a week to teach local children.
Mr Tilbrook said the area around the Gwynne Park hall had never been crime-free, but recent criminal targeting of the hall had got out of hand.
"We've had six break-ins in 12 months," he said.
"On January 24 we came back and noticed the security cameras had been stolen.
"Last Thursday we found they had taken the air conditioning unit from around the side.
"The next day a parent came to look after the yard and when they came in the tyres from our trailer were gone.
"We've not had problems like this in a long time."
The three thefts in three weeks came after several other intrusions in 2017, including one by a person who smashed bottles all over the hall's car park during the Christmas break.
While Mr Tilbrook said the squad would be able to continue teaching through the hottest months inside the hall using only fans, the trailer theft had dented their ability to go on excursions and raise important funds.
"We put our eskies, barbecue and everything on it to take to sausage sizzles, and when we go to camps we put all the equipment on the trailer," he said.
"This hinders us a lot."
The hall is down a short road, away from Townley Street and other property fronts, which makes it an easy target at night.
To combat this the City of Armadale previously provided security lighting to keep the area illuminated at night, but four of the five were stolen shortly after they were installed.
Mr Tilbrook said the club's aged fence had deterred criminals in the past because it had barbed wire at the top, but he said since the City of Armadale removed the wire the building was unprotected from criminals – and so far he had struggled to make headwind with the city over improving security at the site.
Mr Tilbrook said something needed to be done urgently, or criminal activity could not be expected to stop.
"We just want to have it safe for the kids," he said.
The City of Armadale was contacted for comment.