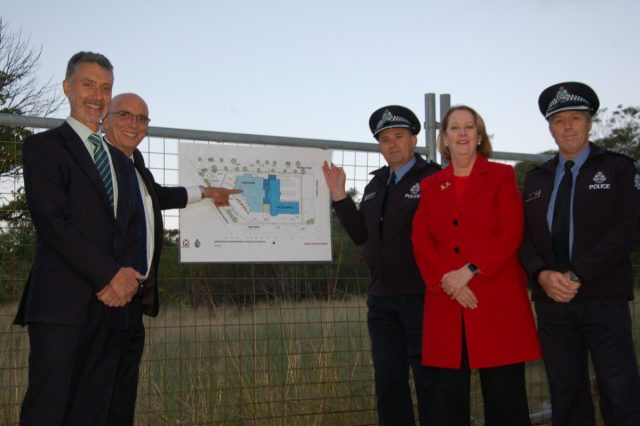 Construction of the new Armadale Courthouse and Police Station is expected to begin within weeks, with the State budget delivering $78 million to WA Police's construction fund for the project this week.
Police Minister Michelle Roberts, Attorney General John Quigley, district superintendent Brad Sorrell, Police Minister Michelle Roberts and acting district commissioner Mark Ridley announced the start of the project Wednesday at the project's future site between Thomas Street and Third Road.
The grant follows a pledge from State Labor during last year's election to upgrade police and court facilities in Armadale.
The all-in one facility will include the station and courthouse under one roof, and will allow Armadale to become it's own policing district for the first time.
Police Minister Michelle Roberts said the upgrade was sorely needed, with the current courthouse and police stations lacking space, connection and facing a 30-year existence.
"We moved swiftly to give the people of Armadale a 24/7 police station, now we are delivering a modern facility which will ensure our police have the support and resources to make the community safer," Ms Roberts said.
"The new Armadale Police and Courthouse Complex will be at the centre of the new Armadale Policing District.
"It will cater for future population growth and provide staff with better facilities to co-ordinate local police response."
Attorney General John Quigley said the complex would ensure Armadale who have adequate policing to match the expected growth of the region in coming years.
"People go to a courthouse for a variety of reasons, not just to face criminal charges, but as a victim of crime, a witness, or to do important work like registering a birth, death or marriage," he said.
"Co-locating the police station with the court facilities will create a safer, efficient and more secure environment – not only for people in custody, but also the wider community."
The project is expected to be complete by October.