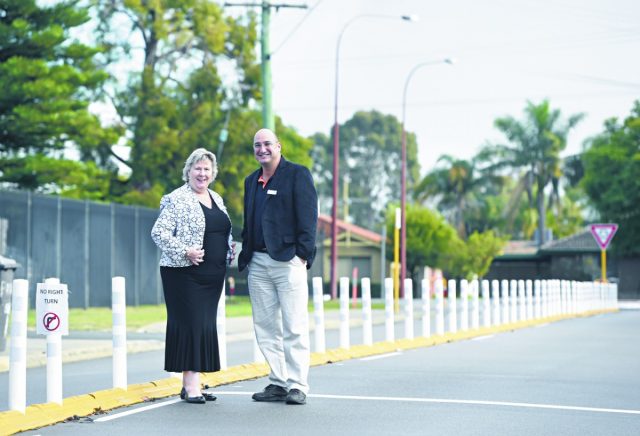 Three Thornlie schools were hoping the installation of bollards in the middle of the road would reduce the likelihood of accidents and improve the flow of traffic before and after school.
Parents and teachers driving to and from South Thornlie Primary, Sacred Heart Primary and Thornlie Senior High schools more than likely used the stretch of road on Discovery Drive between Ovens Road and Ambassador Court when dropping off and picking up their children.
The bollards were installed last month to ensure drivers exiting the adjacent school car parks could only turn left onto Discovery Drive.
Drivers who would normally have turned right onto Discovery Drive will need to drive down the road and turn at the roundabout.
Thornlie Senior High School principal Donna McDonald said the community had responded positively to the change and had quickly adjusted to the new flow of traffic.
"The installation of the bollard has been a positive addition to the range of interventions the three adjacent schools, the City of Gosnells and Main Roads have made in an effort the ensure the safety of all of our students," she said.
South Thornlie Primary School Parents and Citizens treasurer David Holt said community feedback in relation to the changes had been okay except for afternoons when traffic queues to turn left into Sacred Heart Primary off Discovery Drive.
"Traffic spills out of Scared Heart into Discovery Drive and drivers are choosing to stand and wait to enter, which blocks the traffic," he said.
"This can cause the queue of traffic to remain stationary for up to 10 minutes."
Mr Holt urged drivers to obey the two-minute drop off and pick up time in the kiss and drive zone on Ovens Road.
"Drivers must not park and leave their car in this zone during the times specified on the signage," he said.
The new bollards were installed following feedback from each of the schools at the Safer School Parking Forum in March.
The bollards will remain in place for six months before the city reassesses their effectiveness.